---
It shouldn't be surprising that preachers tend to sensationalize certain Bible verses. But sometimes they go just a bit too far. The perfect example is that millions of people still believe that King David danced naked, or in his under-roos, when they brought the Ark of the Covenant into Jerusalem.
---
TLDR Video Summary
---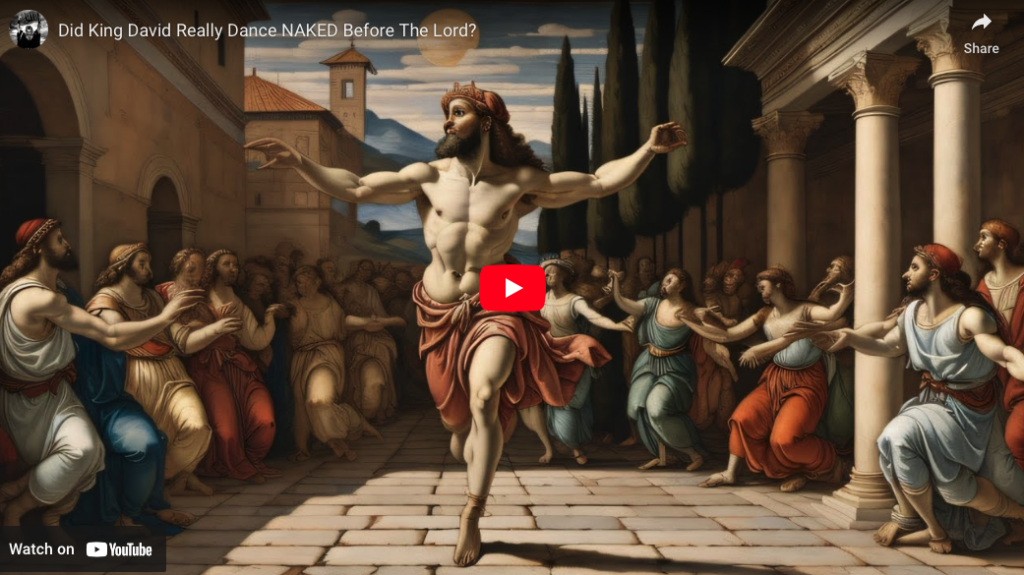 ---
I've ran into many people both online and in real life that are so sure about David dancing naked that they are willing to argue over the issue. I have heard preachers talk many times about how undignified David was by dancing either naked or in his skivvies……usually after an arousing rendition of the song "Undignified". However, according the scriptures, King David most certainly did not dance naked.
The fact of the matter is that the author of 2 Samuel says that he was clothed in an ephod.
Wearing a linen ephod, David was dancing before the Lord with all his might, 15 while he and all Israel were bringing up the ark of the Lord with shouts and the sound of trumpets. (2 Samuel 6:14-15)
In addition to the verse in 2 Samuel, the writer of 1 Chronicles also points out that David was wearing the standard Levite linen as well as an ephod, just like the ones described in Leviticus.
Now David was clothed in a robe of fine linen, as were all the Levites who were carrying the ark, and as were the musicians, and Kenaniah, who was in charge of the singing of the choirs. David also wore a linen ephod. (1 Chronicles 15:27)
So, why do people think he danced naked or mostly unclothed? The reason is because just a few verses later, in 2 Samuel (verse not included in Chronicles), it shows David's wife criticizing his behavior. The NIV and other modern translations seem to struggle on an agreed translation and interpretation of the text. Here are a few different translations.
When David returned home to bless his household, Michal daughter of Saul came out to meet him and said, "How the king of Israel has distinguished himself today, going around half-naked in full view of the slave girls of his servants as any vulgar fellow would!" (2 Samuel 6:20 NIV)

But when David returned to bless his household, Michal the daughter of Saul came out to meet David and said, "How the king of Israel distinguished himself today! He uncovered himself today in the eyes of his servants' maids as one of the foolish ones shamelessly uncovers himself!"(2 Samuel 6:20 NASB)

When David returned home to bless his own family, Michal, the daughter of Saul, came out to meet him. She said in disgust, "How distinguished the king of Israel looked today, shamelessly exposing himself to the servant girls like any vulgar person might do!"(2 Samuel 6:20 NLT)
From these English passages we seem to get a different understanding of how David was clothed. The story in both Samuel and Chronicles state that he wore a linen ephod. So, how was David exposing himself if he was wearing a linen ephod?
---
The Garments
---
Both 2 Samuel and 1 Chronicles state that David was wearing at least some form of linen. In 2 Samuel it says linen ephod. In 1 Chronicles it says he wore a linen robe just like the levites. The difficult part in understanding the clothing description is that usually the levitical attire was a linen robe under an ephod vestment; they were two separate pieces of clothing. A linen in ancient Israel was just a fine threaded garment that went between the body and some outer garment. It was white for priests since white symbolized purity. The priestly linen was a sacred piece of clothing since it was dedicated for use in the temple/tabernacle.
This is how Aaron is to enter the Most Holy Place: He must first bring a young bull for a sin offering and a ram for a burnt offering. 4 He is to put on the sacred linen tunic, with linen undergarments next to his body; he is to tie the linen sash around him and put on the linen turban. These are sacred garments; so he must bathe himself with water before he puts them on. (Leviticus 17:3-4)
An ephod was an outer garment that was decorated and served as a utility device for priests. It could hold tools or utensils for the job. Sometimes they were purely decorative pieces, which was probably the case for King David. Exodus 28 describes how the ephod should be created.
You shall make holy garments for Aaron your brother, for glory and for beauty. 3 You shall speak to all the skillful persons whom I have endowed with the spirit of wisdom, that they make Aaron's garments to consecrate him, that he may minister as priest to Me. 4 These are the garments which they shall make: a breast piece and an ephod and a robe and a tunic of checkered work, a turban and a sash, and they shall make holy garments for Aaron your brother and his sons, that he may minister as priest to Me. (Exodus 28:2-4)

 "They shall also make the ephod of gold, of blue and purple and scarlet material and fine twisted linen, the work of the skillful workman. 7 It shall have two shoulder pieces joined to its two ends, that it may be joined. 8 The skillfully woven band, which is on it, shall be like its workmanship, of the same material: of gold, of blue and purple and scarlet material and fine twisted linen. 9 You shall take two onyx stones and engrave on them the names of the sons of Israel, 10 six of their names on the one stone and the names of the remaining six on the other stone, according to their birth. 11 As a jeweler engraves a signet, you shall engrave the two stones according to the names of the sons of Israel; you shall set them in filigree settings of gold. 12 You shall put the two stones on the shoulder pieces of the ephod, as stones of memorial for the sons of Israel, and Aaron shall bear their names before the Lord on his two shoulders for a memorial. 13 You shall make filigree settings of gold, 14 and two chains of pure gold; you shall make them of twisted cordage work, and you shall put the corded chains on the filigree settings. (Exodus 28:6-14)
---
Clarification from the Chronicler
---
The author of 1 Chronicles points out that David was wearing a linen, just like the Levites. It's not an accident that this is mentioned in Chronicles but not 2 Samuel.
Now David was clothed in a robe of fine linen, as were all the Levites (1 Chronicles 15:27)
He was wearing the standard linen with the ephod as all the Levites were. They were doing so because they were making sacrifices to God along the way back to Jerusalem.
And so it was, that when the bearers of the ark of the LORD had gone six paces, he sacrificed an ox and a fatling. (2 Samuel 6:13)
It should not surprise the avid Bible reader that the Chronicler added to the story told in 2 Samuel. Chronicles was written a few hundred years after 2 Samuel and it's very common for the Chronicler to address difficult passages from Samuel or Kings by changing the working or adding remarks for clarification. In this case, the Chronicler addresses the issue of David's "linen ephod", which we know were two different pieces of clothing; a linen and an ephod. The correction made was to refer to David's attire generically as a robe of fine linen.  If he was wearing only a linen robe, like the priest's robes, then that would be strange. However, it made sense to the Chronicler. It is also possible that the Chronicler was trying to say that David had a linen under his ephod, just like the priests did. This correction would make sense because 2 Samuel makes it sound like he was only wearing an ephod with nothing under it.
However, we know from other Bible verses in Samuel that the phrase "linen ephod" was a generic expression not referring to someone half-dressed.
But Samuel ministered before the Lord, being a child, girded with a linen ephod. (2 Samuel 2:18)

Then the king said to Doeg, "You turn and strike the priests." And Doeg the Edomite turned and struck down the priests, and he killed on that day eighty-five persons who wore the linen ephod. (1 Samuel 22:18)
It seems more likely that David had on a linen and an ephod.
---
Michal's Rebuke
---
But when David returned to bless his household, Michal the daughter of Saul came out to meet David and said, "How the king of Israel distinguished himself today! He uncovered himself today in the eyes of his servants' maids as one of the foolish ones shamelessly uncovers himself!"(2 Samuel 6:20 NASB)
2 Samuel also records that Michal was very upset at David for being "uncovered." The most basic sense of the accusation (נִגְלָה, root = GLH) is being uncovered.
This word is used in various ways throughout the Old Testament to mean different things. About 30% of the time it is translated as it's most basic root meaning of a state of being uncovered (noun format). The next most common usage is as a verb meaning to "exile" or "remove" which is what happened to the Israelites multiple times. The third most common form is also a verb and takes on the meaning of  something "revealed" or being "revealing." These three translations make up the bulk of the biblical usage for this word. Since the word was used by Michal in it's verbal form and in a simple stem (Nifal), it should be translated without any emphasis, like a piel stem would require. I believe the translation of "How he was glorious, the King of Israel he was uncovered today in front of the servant girls…… " is the best translation. However, I think perhaps there was some sarcasm in her tone, which is why the writer of Samuel ended her story a few verses later by stating that she bore no children.
To be sure, though, being in a state that is uncovered or revealing is not the same as being naked. It's not even the same as being in your underwear. But what dis she mean by "uncovered"? I believe that Michal's anger was partially due to his outfit not being fit for a king. A king would be in a fine robe and other kingly garments. A king could be easily identified by his garments. Often, a kings robe would have a long train behind it (like a wedding dress) which was made up of ornate decoration and symbolic meanings. However, such a robe was for indoor use only and some kings only wore the ornate robes while in the royal court. Most kings had a standard public robe which would be more practical. Nevertheless, the book of Esther makes mention of royal clothing from the Persian era.
And Haman said to the king, "For the man whom the king delights to honor, let royal robes be brought, which the king has worn, and the horse that the king has ridden, and on whose head a royal crown is set. And let the robes and the horse be handed over to one of the king's most noble officials. Let them dress the man whom the king delights to honor, and let them lead him on the horse through the square of the city, proclaiming before him: 'Thus shall it be done to the man whom the king delights to honor.'" (Esther 6:7-9)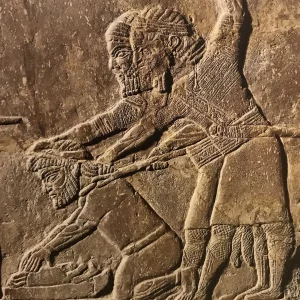 It seems most likely that Michal's outrage was over David's lack of kingly attire. He was leading a procession into the city yet he was dressed like a Levite, not a king. However, there is one more issue that needs addressed. While rebuking David, Michal notes that David "uncovered himself today in the eyes of his servants' maids as one of the foolish ones shamelessly uncovers himself!". She seems to also be upset that whatever he did, he did it in front of the maid servants and was acting like a fool. The ancient world used dancing in many processions and even sacred rituals. Dancing was common enough that professional dancers exist. They even had their own types of clothing which allowed them to move more freely. Dancers were also entertainers and would show just a bit more skin. In 2 Samuel is almost seems like Michal is upset that David was like one of the dancers who wore revealing clothes or made his clothes to be more revealing.
It was common in the ancient world for a man to gird himself for running, battles, or dancing. If no proper attire was worn for the event then a person would pull up their robe and tuck it into their belt. This is where the phrase "gird your loins" comes from. When this is done, the robe is shortened and the legs are revealed. This was very common in the ancient near east. One was expected to be dressed for the occasion. David could have worn any number of outfits to the ark procession. He could have worn his royal robes. He could have worn his military regalia. He could have worn a king's public robe. He chose to wear a Levitical robe and then he likely girded it so he could dance. Certainly, this act would have been undignified in multiple ways. First, he wasn't dressed as the king. Second, he was dancing like a fool. Third, he probably girded the linen and ephod which was not a priestly thing to do. On every level he was undignified.
But he still wasn't naked or in his underwear.
---
Conclusion & Reasoning
---
I think we can know for sure that David had on an ephod and/or a linen. I also believe the Chronicler was correct in addressing the passage by stating that he also had on his white linen underneath the ephod, just like all the other Levites. The author of Samuel did not mention the linen because it's assumed. Ephods were always worn with a linen. But if David was wearing both a linen and an ephod, why the outrage by Michal?
I think her anger was multi-faceted. David behaved in a most undignified manner. He was not dressed as a king. He was dancing like one of the entertainers, and he likely had some leg showing. I also think her difficult relationship as the queen of such a man was another factor. I think the public speaker John Clayton made a great point on this matter.
To understand the situation, one needs to go back and learn about Michal. This woman was Saul's youngest daughter (1 Samuel 14:49) and was given to David by Saul for David's defeat of the Philistines. When David was in exile, she was given to Phaltiel (1 Samuel 25:44), and then bargained back to David from Abner as part of a political move to strengthen his claim to the throne. This woman was part of the political establishment, and had always lived in a politically correct environment. When she sees her husband take off his kingly garments and crown, and become like everyone else, and especially when she sees David participate in an undignified celebration she is incensed. David's lack of political correctness is so bad that the Bible says Michal "despised David in her heart" (2 Samuel 6:16). In verse 22 of this chapter, David responds to Michal by saying to her that the servants would hold him in special honor because of his conduct. ("Dancing Naked or Understanding Badly", by John Clayton)
David's tense relationship with Michal is sensed in his response to Michal, where it can be seen that there was some form of sarcasm and ridicule. "It was before the Lord, who chose me rather than your father or anyone from his house when he appointed me ruler over the Lord's people Israel."
I think the real issue was that David degraded himself by not wearing the proper kingly vestments. Why else would she sarcastically make fun of David's lack of "glory" (כָּבוֹד) when accusing him. This was a word that would have only been appropriate when speaking of David as a king. Thus, his lack of kingly honor was what bothered her. What a fool he was for setting himself among the servants, rather than acting like the king he was. What a horror to do so on one of the most important days of his life, when the Ark of the Covenant is returned to Jerusalem.
---